PrestaShop eBay Integration manual
Information about Orders
PrestaBay module has a feature that allows you to track all your ebay sales and also import it back to the PrestaShop Order section to process as a normal on-site sale.
Importing ebay Orders is directly connected to the configuration of Automatic Synchronization and especially for "Order Synchronization configuration"
All ebay orders could be found under menu "Catalog—>ebay—>Orders"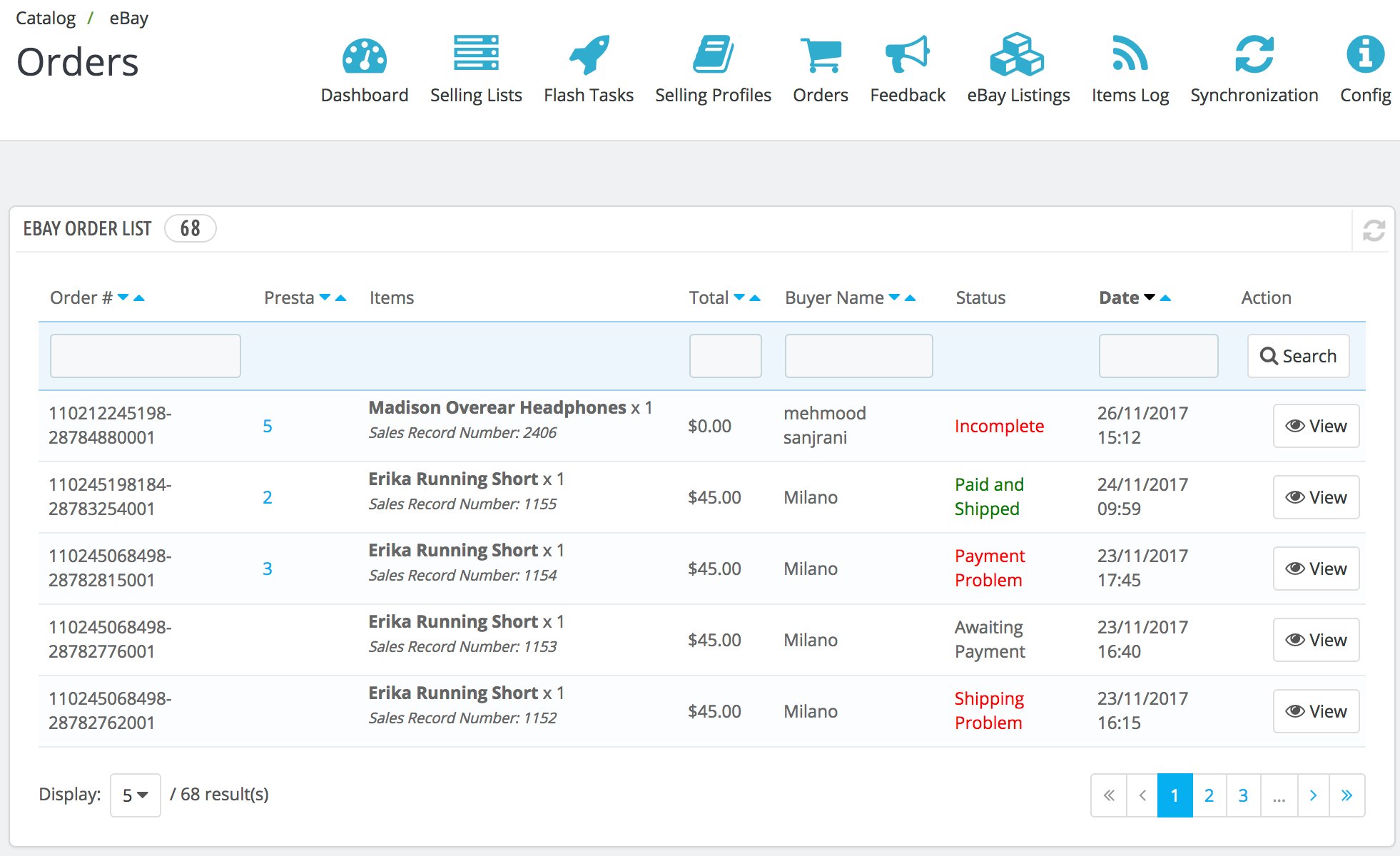 On this page, you can find the following information:
Order # — ebay order identifier
Presta — show a PrestaShop order ID when an order has been imported. Clicking on this import show your PrestaShop Order.
Items — display a list of items that appear in the current order. In the additional show "Sales Record Number" that allow clearly identify ebay transaction.
Total — total order price with currency code (including shipping cost and tax)
Buyer Name — the name of ebay item buyer
Status — current status of eBay order
Incomplete – eBay buyers don't complete checkout, not select payment and shipping methods. In this stage, the order is not finished and information about the buyer, shipping cost, items cost could change.
Awaiting Payment – eBay buyer complete checkout but still not pay for the item. Information about shipping, the cost will remain unchanged.
Payment Problem – eBay buyer complete checkout and pay for the item but payment not received by the seller (for example wrong PayPal address)
Awaiting Shipment — eBay buyer complete checkout, pay for an item, and wait when an item will be shipped.
Shipping Problem – some problems during shipment of the item.
Paid and Shipped – order is fully processed. Customer pay for item and item was shipped by the seller.
Refund — order was canceled and the buyer receives a Refund.
Date — Date and Time when sales happened on eBay