Free Ebay Template — Simple Full Width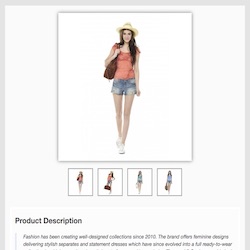 Responsible ebay Description template with full width layout, without menu and logo.
Download
Description
Nice ebay desciption template in full width layout. Template don't have any menu or logo and there no color default color for template. Ebay Template support tabs, gallery. No files need to uploaded to your server, just insert template & check result.
Template distributed under creative common license and free for personal and commercial use with attribution (link to author), e.g. "Creative Commons Attribution-NoDerivatives 4.0 International License".
Ebay Template Features
Available in full width template
No JavaScript used (Only CSS template)
Mobile ready
Tabs
No color scheme
Ready to use
How to use
Download archive with templates
If you are using PrestaBay module create new "Description template" and paste content of selected template
If you are using another module, please paste template content into corresponding interface and replace all template variables with one supported in your software. For example you will be need to replace [product_description], [product_new_gallery]
Replace link and text in template menu
Put your content into corresponding tabs